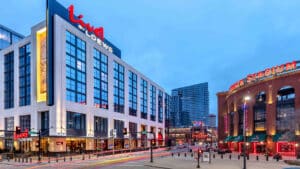 The ABC hotel block at Live! by Loews St. Louis is open. Deadline to book is July 7, 2023.
Discounted price: $219/night
About the Hotel
Enjoy a laid-back luxury St. Louis experience in the midst of the city's sports and entertainment mecca, Ballpark Village. Here at Live! by Loews St. Louis you will experience first-class hospitality and superior amenities. Immerse yourself in design dating back to the rich history of St. Louis and discover a respite in the midst of the hustle and bustle.
Come early, stay late, St. Louis has so much to offer. From the music and riverfront to baseball, this is a city you don't want to miss!