To reach as many impacted donors as possible, America's Blood Centers is asking Congress to provide targeted federal funding that can be used locally by blood centers to amplify their education and awareness efforts.
America's Blood Centers strongly supports the updated guidance recently released by the Food and Drug Administration (FDA) regarding variant Creutzfeldt-Jakob disease (vCJD). This move will allow more people to safely donate and strengthen our nation's blood supply at a critical time.
Commonly referred to as Mad Cow Disease, vCJD is a rare disease of the central nervous system. Despite initial concerns of potential transmission, science continues to show that the transmission risk of vCJD by blood components remains negligible.
Based on updated evidence, the FDA's new guidance removes the deferral recommendations associated with geographic risk of vCJD for time spent in the United Kingdom (U.K.) from 1980-1996; time spent in France and Ireland from 1980-2001; and receipt of a blood transfusion in the U.K., France, or Ireland from 1980-present.
Permanent deferrals remain in place for donors who volunteer that they are suspected of having vCJD, CJD or any other transmissible spongiform encephalopathies; have a blood relative diagnosed with familial prion disease; or who received cadaveric pituitary human growth hormone, or a human cadaveric (allogeneic) dura mater transplant.
In April of 2020, FDA eliminated the deferral of U.S. military personnel, Department of Defense civilians, and their families who spent time at U.S. military installations in Europe outside of the UK during the period of 1980-1996, a change ABC has been long working with FDA to implement. This change allowed more people to donate blood without risking the safety of our nation's blood supply.
Our member blood centers are looking forward to welcoming back previously deferred donors. However, these changes cannot be made overnight – they must be implemented in a controlled environment in accordance with good manufacturing practices.
It will take time for blood collection establishments to update their computer systems and donor history questionnaires to incorporate these changes, as required by the FDA. Individuals are strongly encouraged to contact their local blood center to confirm the implementation timeline, their eligibility, and to schedule appointments to donate.
While blood centers are already working with community organizations such as veterans' organizations (since many of those donors deferred for risk of exposure to vCJD are either military or veterans and their families), these efforts are constrained by a lack of funding.
Federal funding directed locally has shown to generate significant results in the recruitment of first-time and repeat blood donors. During the collection of COVID-19 Convalescent Plasma (CCP), funding was provided through an Other Transaction Authority (OTA) to increase the total number of CCP collections. America's Blood Centers (ABC) managed the program and distributed funds to 37 not-for-profit blood centers, resulting in a 244% increase in CCP collection in a 20 week period, ensuring CCP was available for patient needs during the delta wave of COVID-19 when few therapeutics were available.
In addition, ABC will continue to encourage the FDA and the Centers for Disease Control and Prevention to keep surveilling vCJD globally and applying a risk-based approach that includes periodic evaluation and adjustment in deferral criteria accordingly.
When FDA changes to donor eligibility occur, blood centers must undertake extensive changes before welcoming back impacted donors:
Latest Resources
ABC members get exclusive access to Collaborate, a community where you are able to share ideas, discuss topics, search for resources including talking points, one-pagers, webinars, and more on this and other topics.
Statistics & Research
Download ABC's U.S. Blood Donation Statistics and Public Messaging Guide, a first of its kind guide is designed to provide the latest look at America's blood supply and its donors, including social media resources.
Letters and Comments
View the latest letters and comments from ABC as we work to advance our advocacy agenda, strengthen the blood supply, and support the important role of community blood centers across the nation.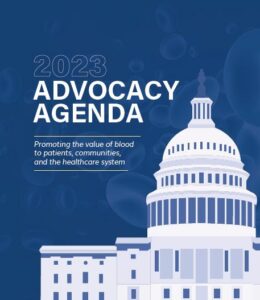 Promoting the value of blood to patients, communities, and the healthcare system.
America's Blood Centers (ABC) urges the Administration, Congress, and industry stakeholders to promote the value of blood to patients, communities, and the healthcare system through the following actions: